Orbit launches your business into the future.
Connect to the tools and services you use to run your business in a secure data warehouse in the cloud. Extract raw data from as many tools as you need, guaranteed.
Clean, normalize, and evaluate your raw data to bring you the metrics your business relies upon. Granular data calculations transform your data into information and showcase trends at macro and micro levels.
Reduce Time-to-Insight and Increase Your Bottom Line
Best-in-class data dashboards show you EXACTLY how your business is performing across all reporting metrics. Spend less time wondering and more time growing with data-driven insight.
About
Orbit Metrics
We aim to empower small business owners with big data, so they can reach for the stars.
As a business owner, decision making is at the forefront of growth. Be empowered to make the right decisions through data-driven insights.
​
Orbit provides you with the command center to analyze every facet of your marketing, social, and site operations, so you can spend less time questioning and more time doing.
Launch into a fully managed, custom data solution for your business and save hours every week. Empower your business with data-driven insights and decision making, all without looking at a spreadsheet ever again.
What it's like for millions of small businesses.
File Management Nightmare
​
After visiting each service your company utilizes (ad managers, social pages, site analytics, etc.) and downloading their datasets, version and date control quickly becomes a headache. Did you make sure you downloaded everything? Is it in this weeks folder? What happens when a file accidentally gets deleted?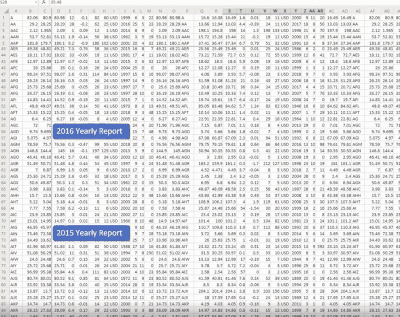 Endless Spreadsheets
Combining data from all your sources into one place leaves you with a messy, impossible-to-verify table of clutter. Gathering insights in a readable format takes dozens of hours per week, and has to be repeated every time you need up to date information.
Unsophisticated Reporting
Static charts and weekly update emails get lost in the day-to-day operations of business. It's time to switch to a data reporting solution that works FOR you, and allows you to dynamically gather information and insight on your schedule.
Let Orbit be your Mission Control
See what's awaiting you in Orbit.
Centralized Data Warehousing
​
Automatically pull data from your services into a fully-managed and secure data warehouse. Never manually download data logs again.
Advanced Analytics
Taking advantage of Google's Cloud Infrastructure, we compute business analytics unique to your needs across millions of rows of data and hundreds of data sources.
Dynamic Reports
​
Custom reporting dashboards hosted in the cloud allow you to securely access your business metrics anytime, anywhere. See exactly what drives your company forward, and address what may be holding you back with our 360° data reports.
"The core advantage of data is that it tells you something about the world that you didn't know before."
Hilary Mason
Founder of Fast Forward Labs